We talked with Oliver about his career path, his creative process, and his ultimate dream projects.
Born and raised in the suburbs of NYC and currently living in Manhattan, Resolve Director Oliver Shore has his fingers on the pulse of the city. "NYC keeps me constantly inspired," he says. "It's a perfect place for a creative like me." The inspiration he takes from his surroundings comes through in his eye-catching, edgy, and often surreal music videos that will no doubt catch and keep your attention, no matter where you're watching from. We talked with Oliver about how he became a director, what makes up his creative process, and which artists' videos would be his ultimate dream projects - read on for the full interview. 
Q: How did you get your start as a director?
I've always been passionate about filmmaking — I've been creating projects from start to finish since 2014. I started out as a one man army: conceptualizing, producing, DP'ing, directing, editing, and coloring all of my own projects. It became clear during my time at SUNY Binghamton, where I studied Film and English, that directing was my calling. After graduating I freelanced at an all-in production studio for 6 months until deciding to fully pursue my career in directing at the end of 2018. I began to network through local artists, managers, and social media and built a relationship with Interscope Records, earning their trust to direct larger scale projects. Once I had a few label sponsored productions under my belt, I was able to expand my clientele and work with other artists and labels. I've truly paved my own path and have built my directing career from the ground up.
Q: How long have you been working with Resolve?
Resolve Media Group is family! We've been working with each other since the start of 2022. Their guidance, wisdom and stellar production support are helping me grow to become a stronger director. We initially connected through Mark Bridges, Senior Video Commissioner at Interscope Records. Mark had shared my work with Chad, who reached out to me to hop on a call and we immediately hit it off. I knew that partnering up with Resolve and Chad would help take my directing career to new levels and it definitely has. I'm so excited to continue developing our relationship and collaborating on dope projects with them.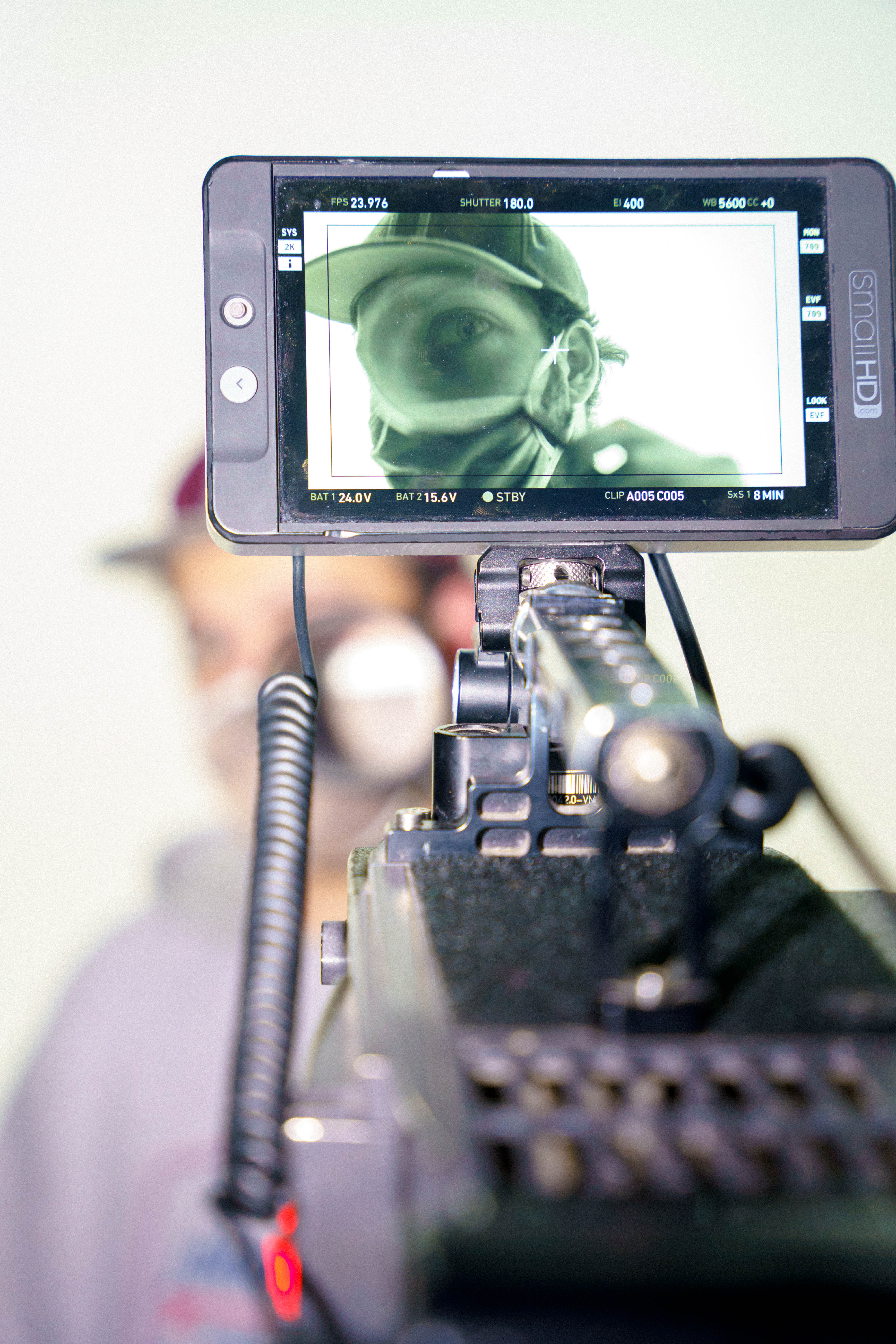 Q: How would you describe your directorial style? Where do you get inspiration for your videos?
Contemporary, fresh, and on the pulse. It's hyper-enhanced reality that sometimes crosses over into full blown fantasy, guided by surreal storytelling. My concepts are based in reality, then taken to a fantastical world. I look to find deeper meaning and excitement in seemingly normal, mundane aspects of life. I love to experiment with new technology and look to find new applications for it in my work. 
The creator of the Twilight Zone, Rod Serling, is from Binghamton, where I attended college. During my time there I quite literally felt as if I was living in the Twilight Zone; it's why I'm inspired by surreality and the supernatural. I find inspiration from life experiences and my surroundings — I live in NYC and I find constant inspiration within the lightning fast pace of the city as well as all its interesting characters. I've also gained a lot of inspiration from old school music videos from MTV's golden era ('00-'09) and psychological thrillers from the likes of Stephen King and Gaspar Noe.
Q: What are the essential steps of your creative process?
It's different every single time. I like to become familiar with the lyrics, tone, and theme of the song, so I can brainstorm how to best tell this story. Sometimes I really resonate with a track and everything comes to me instantly. Other times I'll listen to the track on repeat with my eyes closed and see where that takes me. Most of my concepts are based on reality, but then I like to take it up a level and make my storytelling, style, and supporting characters surreal. It's a building block process. If I'm able to pull visual references from the internet and create a sample video of what I'm seeing in my head then I will. I find that when I'm able to pitch ideas in video form it's much easier for the client to fully understand my vision.
Q: Tell us about a project you've worked on that you're particularly proud of.
I'm particularly proud of the collection of Ken Car$on music videos I've directed and edited. My team and I helped elevate, create, and sharpen Ken's visual brand/aesthetic, and I think the atmospheric psychedelic worlds we've created for Ken mesh well with him sonically. While working on these projects I collaborated with a VFX coder to build new technology that creates custom visual effects using machine learning software, which gave the videos "Rock N Roll" and "Run+Ran" a really unique layer. This video series really showcases my range in style as a director: from the extreme visual effects and psychedelic world of "Rock N Roll" and "Run+Ran" to the visual simplicity of "The End" and "GO." I'm grateful to have the opportunity to explore and express my creative visions in this collective of videos.
Q: What's your ultimate dream project?
In the music video world, I'd want to do a project with A$AP Rocky or The Weeknd. I'm a huge fan of both of them musically, and I'm a huge fan of their videos as well. I feel like our aesthetics would mesh really well together and that I could tell some really interesting and captivating stories for them. 
Q: When you're not working, what do you like to do?
I love baseball, so I find myself going to games often. I have a 20 game package that I get every season to go to see the Mets play at Citi Field. I'm also a really big fan of UFC and mixed martial arts; I like going to catch indie film screenings with my friends at local theaters and going to museums as well. Whenever I'm able to, the weekends are really when I'm able to break away from my computer and just unplug from everything and enjoy myself. I'm so involved in the post production - I'm in the trenches with the editors doing all of the post work. I spend a lot of time in the editing bay, so I appreciate it when I'm able to take some time to relax.
Q: Are there any upcoming projects that you're excited about?
I can't give anything away, but I do have more projects that I am really excited about sharing with the world, and I think that the world will be excited to see them as well. I have some interesting collaborations that are shaping up to be really cool. We're getting to continue to push our creative agenda, trying new things, experimenting with new technology, telling interesting stories and creative stories — that's what's on the horizon right now.